Homosexuality is the root cause for the majority of sex abuse at the catholic Church, not the Catholic Church itself, says a German cardinal who is one of the most senior German figures in the Catholic Church. He has controversially denied that sexual abuse was a problem in the Catholic Church, saying that the problem was caused by gay men rather than catholic priests.
Posted on
Leave a comment
This is the video the Establishment, Mainstream media and Social Media Networks do not want you to see. Some mainstream media outlets like BBC and CBS are going so far as to call the islamic beheading as mere stab wounds to the neck! Facebook, Twitter and Youtube are removing this video as soon as it is being posted by users. We have decided to post it on EuroWars.org, as horrendous as it is, in an effort to make people realise the barbarity they are welcoming with open arms, and also in the interest of not censoring the brutality and inhumanity of these warriors and servants of Allah, but also to highlight the deceit that Mainstream media and the Establishment is practicing in the name of false virtue and oil cash.
You wouldn't think the much vaunted 'Religion of Peace,' would need public relations interference by the mainstream media, establishment and global tech elites, but that's exactly what Islam is ge
Continue reading…
Posted on
Leave a comment
What is Sharia Law? A Complete Ideology: a Culture, a Religion and Political System into One.
Contrary to what muslims would have you believe, they are not given a choice about what parts of Islam to follow – it is all or nothing and if they were in their own countries, they would have to follow it to the letter of the 3 books…
https://www.youtube.com/watch?v=pwaY5dSMLk4
The 3 Books Muslims follow instruct them on the law Muslims must follow and how to indoctrinate and assimilate non-Muslims and their Countries!
The three books that followers of Islam (Muslims) follow, tells them how to live, to eat, to get in a shower, how to get out a shower, how to read, how to go to bed, even how to go to the toilet…
It also tells them how it is the duty of every muslim to indoctrinate and assimilate non muslims and their countries by whatever means…
The more you educate yourself about Islam the more you learn it gives you no choice but to resist it…
Posted on
Leave a comment
A video by a Yazidi refugee who was bought for $100 dollars has exposed how her ISIS captor and abuser was ALSO given asylum in Germany where he subsequently tracked her down and confronted her! As she says on the video, this is by no means an isolated incident. Many incidents of crime, fighting and riots are a result of the feuds and conflicts having been imported from the Middle East into Europe. Maybe the V4 Claim that Poland and Hungary will have to defend themselves from Islamic Invasion from the West is not that far fetched after all?
The Yazidi teenager who was enslaved by Islamic State (ISIS) who had sought asylum in Germany has fled back to Iraq after being confronted by her former ISIS captor, who had also claimed and registered as a refugee in Stuttgart.
Ashwaq Ta'lo said that she was stopped by Abu Humam – a Syrian ISIS guard who had purchased her as a slave for $100 –
Continue reading…
Posted on
Leave a comment
In what some would call karma or payback for UK's anti Christian, anti Catholic policies and attitudes, going back centuries, the supremacist UNHCR, who decides on behalf of Western nations where refugees are sent, sends Muslims to UK but sends Christian refugees to Germany or Sweden. This is also where the refugees prefer to go, further underscoring the pick and choose lottery win, that the refugee system has become. The word used is "resettlement" which indicates it is permanent with no intention that these refugees will ever be asked to return to their countries of origin. Indeed, "resettling ONE refugee plus FIFTEEN family members makes it clear they are permanently relocating people en masse! This is warfare! This is blatant kidnapping of desperate people to use be used as consumer fodder by oligarchs and multinationals and voter fraud by the occupation governments in the West.
As EuroWars reported Continue reading…
Posted on
1 Comment
Why are Muslims running away from Muslim countries when Christians are the target of Islam?
The UK has taken ZERO Christian Syrian refugees this year according to New figures recently released by the Barnabas Fund charity which show that not a single Christian refugee from Syria was brought to the UK in 2018.
The figures show that out of 1,100 refugees, not a single one was Christian – and previous figures show a systematic discrimination against people from the Christian faith.
Even Barnabas admits that the government appears to be discriminating, and I have to ask — is this ideologically driven?
It seems to me like the British government is just hell bent on importing as many Muslim migrants as they can get away with…
Don V
[embed]https://youtu.be/KvSUYACBYhY[/embed]
Continue reading…
Posted on
Leave a comment
Matteo Salvini, The League (Lega) leader, Deputy Prime Minister and Interior Minister of Italy's new patriotic coalition government, has not held back his opinion that Italy's "tradition, our story, our identity" was at risk while the political left have abused declining birthrates and threat of an ageing population as an "excuse" to "import migrants". It is the left that promotes abortion on demand too.
In an interview with The Sunday Times at the historic Palazzo del Viminale in Rome, the Italian Interior Minister cautioned that a country which imports migrants instead of supporting families is "destined to die".
"We have created a ministry of the family to work on fertility, nurseries, on a fiscal system which takes large families into account. At the end of this mandate, the government will be measured on the number of newborns more than on its public debt," the Minister stated.
Italy's most powerful elected po
Continue reading…
Posted on
Leave a comment
Globalist Amnesty Intl. risks a criminal probe after taking Soros funds for pro-abortion campaign in Ireland and could face criminal charges after an Irish regulatory body found that it broke the law by accepting a donation from George Soros' Open Society Foundation for an abortion rights campaign. Having recently pumped 18 Billion dollars into his..
Continue reading…
Posted on
Leave a comment
The ancient Greeks may have worshiped earthquakes, purposely building temples and other important structures directly above fault lines. But the same natural phenomenon they exalted could have also destroyed them. According to the University of Plymouth, it's not an entirely new idea that earthquakes played a role in the lives of ancient Greeks: "Scientists have..
Continue reading…
Posted on
Leave a comment
The Western World was Deliberately and Fatally Infected with an Intolerance Parasite called Cultural Marxism (Political Correctness) by Supremacists who wanted to rule the world and appoint themselves as the Monarchs and supreme rulers who they are trying to depose. – Like an AIDS infected body where it's own self defense mechanism attacks itself, putrefaction..
Continue reading…
Posted on
Leave a comment
The latest London Attack proves that moderate Muslim communities create "Safe Spaces" for extremist Muslims as proven by the "alarm and concern" that leaders and members of the Muslim community have expressed that moderate Muslims did not tip off the authorities ahead of Saturday's terrorist attack in London, the Metropolitan Police commander in charge of community..
Continue reading…
Posted on
1 Comment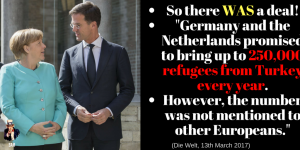 Turkey seems to have become emboldened after the Dutch elections this week, which saw the weak, liberal, brainwashed Dutch choose every other party except the anti Islamic and anti EU PVV party of Geert Wilders. Turkish President Recep Erdogan has urged all Turks living in Europe to have at least five children, saying they are..
Continue reading…
Posted on
1 Comment
ONLY The Netherlands and France have any chance of saving Europe from the Supremacist EU. Other European nations have already been conquered by debt, political correctness and enforced immigration. Ironically if only Greece, Italy and Spain had the backbone to default on the EU and walk out, their citizens would be far better off (as..
Continue reading…
Posted on
1 Comment
"There is something very bad going on, and until we can find out what, and who it is, so that we can correct it, we have to halt it" – Trump The scary truth that no one can fathom, one which is beyond people's comprehension and is putting them in denial and in a stasis..
Continue reading…
Posted on
Leave a comment
Radical Islamist cells are spreading all across eastern German states while terrorism-related tip-offs emerge on daily, says the head of Thuringia's domestic intelligence agency. Islamist extremists were advancing "with impunity" in rural areas of eastern Germany even before the ongoing influx of refugees into the country, Stephan Kramer, head of Thuringia's regional Office for the..
Continue reading…