Iran's General Qassem Soeleimani was not just another Iranian general. He was the head of the Islamic Revolutionary Guard Corpse Quds (or Jerusalem) Force. The IRGC answers only to Iran's Supreme Islamic leader Ali Khameini, who is a cleric. Iran is a theocracy meaning rule by Islamic clerics or Mullahs. Iran underwent a bloody coup in 1972 during the Islamic Revolution and has been subject to Islamic Totalitarianism in the form of Sharia Law ever since. 
Imagine if the Church of England or the Catholic Church had its own army and claimed that they can speak directly for God, as Iran's Islamic clerics and IRGC do.
The second big irony is that Iran represents one branch of Islam called Shia Islam. There was a great schism in the Muslim faith centuries ago after the death of the prophet Mohammed, and both branches of Islam, Sunni and Shia, claimed that they correctly interpret the faith and have been at war with each other ever since, which is why the Middle East has been at constant war ever since, with the grudges between the sects being exported to other nations. The whole Arab world is centuries behind Europe, which has been through it religious persecutions,  yet naive left wing Europeans embrace this primitive outlook and even deprecate themselves to it. Have we learnt nothing?
These 2 sects really don't like each other and in many instances fight each other to the death like in Iraq, Syria and Yemen (in Yemen the Shia are called the Houthi and in Syria President Bashar al-Assad's Alawite ethnic group is related to the Shia faith, although a variation of it). But of course they all claim to speak for (Allah) and therefore they are properly mandated by Allah to commit any terror activity they see fit. The Koran actually demands Islamic expansionism.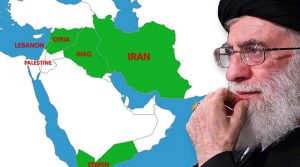 General Qassem Soeleimani oversaw sectarian Shia expansionist policies on behalf of Iran"s Islamic mullahs everywhere in the Middle East, and the Quds force he headed only operates outside of Iran's borders. They oversee logistical support and training to sectarian Shia militias in Lebanon (Hezbollah), Yemen (the Houthis), and Iraq and they actively fought alongside President Assad of Syria's forces. They also support Hamas and Islamic Jihad in Gaza.
Their purpose is to build a Shia crescent or land bridge all the way from Iran to the Mediterranean Sea. Soleimani was a self styled Shia holy warrior responsible for the death of hundreds of American soldiers in Iraq, and his grand vision on behalf of his religion was to drive Israel into the sea. He was a sectarian extremist who had immense power and no accountability. Until now. Mujahedin-e Khalq Organization (MKO) had already publicized its intention to assassinate the General back in July.
Anyone who supports Qassem Soeleimani, like left wing parties and nations, do not know or respect simple facts, as usual, and merely repeat the far left "solidarity" narrative. Or does this blind loyalty expose an underlying plan to facilitate Islamic expansionism?
Qassem's Reach – by New York Times, so take with a pinch of salt…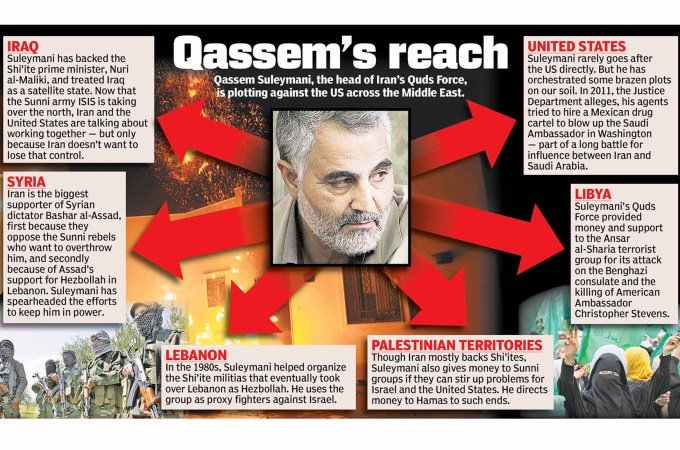 See also: The West Are Also Islam's Useful Idiots: Iranian Who Fled Iran Says UK Becoming As Bad As Iran! 
---