A Nation Conquered by ONE Word! These are the blatant, globalist paid for lies which enabled the ANC's, terrorist driven, violent coup d'etat of 1994, where they not only annexed a dozen self governing nations in one foul swoop, but before, during and after the coup, white South Africans and their society were, and still are, literally terrorized, ransacked, raped and murdered in staggering numbers. The terrorism, violence and the lies from within the captured white government, created an abnormal regime, in which these horrific attacks are hidden and even justified by the veil of false political correctness, which was given to the bantu by the liberal Global World Order and Communism's Politically Correct "anti-racism" weapon. As a result, bantu captured a first world country, way beyond their means and ability to create, never mind manage, just as PW Botha predicted.
The ANC and bantu won the worlds biggest lottery, one which the mighty British empire sacrificed tens of thousands of men to win in multiple wars. That win now defines the ANC and bantu, and they know, the only way forward is down, as it is impossible for them to build upon something which they could not have built in the first place! This is the reason, to this day they still have to sing the anti-racism song which The Communists from Soviet Russia and Cuba, as well as the Deep State socialists in the West taught them. Scores of blacks were taken to Moscow, London, USA and Canada to be trained in the evil art of subversion and deceit, whilst pretending to be lawyers, journalists, "freedom fighters" etc. These malicious brainwashed people are still active in South African society today, and so the terror, attacks, rapes and murders continue as the bantu dismantles and consumes our society! Indeed, for communists and their genocidal "revolutions", bantu are the perfect cannon fodder.
If the video does not load above, watch here: https://www.youtube.com/watch?v=uQSqPjgduSU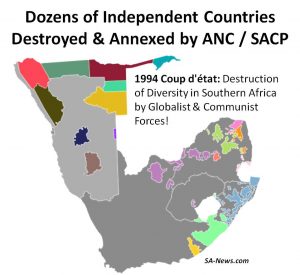 Read also: List of ANC Regime's 114 Race Based Laws Versus Only 17 Under Apartheid! Zille is Right – Blacks Prefer Victimhood to #Equality!
---