As this video compilation of loud mouth Never Trump Liberals below shows, Mainstream Media & Hollywood made total fools of themselves in 2016, openly spouting their hatred for the normal man on the street, who voted Trump.
#USA2020 is no different, and in fact the contrasts are even starker than in 2016 after the liberals have waged a four year open war on Trump and his base. The castigation, swearing, physical attacks and even murders of any one who supports Trump has created a sub set of voters that the Pollsters have no way of reaching, never mind polling. In fact Pollsters have no way of knowing how much to adjust their polls by, because the so called "Deplorables" or "racists" or "chumps" have completely gone underground and will only surface at the moment the cross is made on the ballot paper.
Thanks to Trump's many successes on the economy and record job creation, even amongst minorities, this group is now far larger than they were in 2016 thanks to the aggressive 24/7/365 anti Trump vitriol from Mainstream media and the Establishment. Indeed it has become so endemic, that an elderly person for instance would vote Trump when on their own, but when a so called "voter assistant" comes along and chides her that she wanted to vote Biden, the poor old person submits and lets the overbearing aggressive, usually democrat "voter assistant" change her vote for fear of being thought of as being a "bad person".
If the video does not load above, watch here: https://www.bitchute.com/video/DN6NExbC81Ie/
Even though the mainstream polls show Biden with a lead twice as much as Clinton had in 2016, on the ground we can already see in Florida, even in Democratic Miami Dade, Tampa Bay and Broward County, the Republicans are coming out in huge record numbers. Clearly the deplorables are sick and tired of being attacked and insulted by left wing snowflakes.
Secondly, not only did Trump create a record economy before Covid19, he has even produced a miracle in the third quarter with the "V" bounce, in other words, the economy is picking up as strong and quick as it dropped from the shut downs. It is clear even Democrats want things "to get back to normal". As anyone with any interest in politics will know, "it was the Economy that won the day, stupid". His America First policy has even been copied by Biden!
Another issue which has come to the fore with the Deplorables, is places where Western Culture is at stake, like Dearborn Michigan where Islamists have established a major foothold with many no go sharia zones, the Trump vote is very strong, but also underground. In fact even California will see a major growth in Trump support thanks to the far left open border socialist policies. There has een such an exodus of Americans from California that it is impacting the elections in neighbouring states like Arizona, Colorado and even Texas, where the stupid lefties are voting for the same policies that turned California into a socialist hellhole!
Indeed we have no idea how big this suppressed voter group is, but based on Trump rallies and early Florida voters, it is huge. Of course all of these must be offset against the Democrat voters that were tricked by the polls in 2016, and didn't bother to vote, because they were told "Trump would never win!"
We do however have an idea who is completely out of touch here, the likes of Tom Hanks, George Clooney and the mainstream media gatekeepers in this video from 2016… enjoy it and look forward to the sequel on November the 3rd!
Don V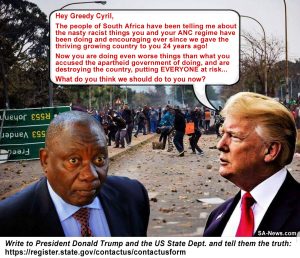 Read also: Over 95,000 People Sign Petition To Remove Lana Marks, Trump's US Ambassador To South Africa, For Misrepresenting SA To The World!
---