As Thick As Thieves! The election coup / fraud of USA2020 has all the hallmarks of an Obama scam backed by the Deep State, and having been Biden's boss, Obama would know all the details of his corrupt VP's activities. He also knew Biden would agree to partaking in election fraud to become President, to save his family from disgrace, like Clinton or any classic african despot does! It is clear the reason Joe Biden was happy to be complicit in election fraud was because being President would give him and Obama immunity from everything, like illegally spying on Trump, the Trump Russia collusion hoax, corrupt deals with Russia and China and various sex scandals, including some which were no doubt "honey traps" set by the CCP! Clearly Biden is a national security risk! But then, it is the aim of NWO and globalist Democrats to destroy USA, so it's a win win for them!
As VP to Obama, Joe Biden threatened to withhold a Billion dollars of US Government Aid from Ukraine if they do not fire the prosecutor that was investigating his son Hunter Biden and Burisma? That is classic text book corruption, yet the Democrats and mainstream media (MSM) are covering it up. Is their Trump Derangement Syndrome (TDS) so bad?
Joe Biden is the leader of antifa, the militant "agitprop" part of the socialist revolution, essentially the military wing of the Democratic Party – antifa dotcom redirected to joebiden dotcom during the election… Biden even defended antifa during the election debates, saying it was "just an idea"!
If the video does not load above, watch here: https://www.bitchute.com/video/8wevsV8FO5oo/
The New World Order and its Deep State and Swamp will now try completely criminalize and destroy Trump and true democracy. They are scared of what Trump represents and will try grind him into the ground to prevent him running in 2024! They will also try ban conservatism itself given half a chance! They are the very opposite of Democratic, even the second impeachment was illegal but no one stops the Democratic Party from cheating and breaking the law because they are too scared of being falsely called "racist"! Yet another country conquered by one word…
Thanks to a weaponised flu virus, a 78 year old man campaigned from his basement and picked one of the most unpopular VP candidates. Yet he receives the most votes of any candidate in history of America, at 4AM in the morning, mostly confirmed while no opposing observers were present. He then holds an empty inauguration with 25,000+ troops to protect him from people who supposedly voted for him in masses! Yet nobody can question any part of all this? Mainstream Media and Big Tech completely censor anything, including the President of the Unites States himself, whether it is factual or not, that questions their little fairy tale? Even to the extent that they would rather destroy their own business rather than let the truth out! Be VERY afraid.
When you see this Self Destructive Prime Directive a work, you should know the New World Order is quietly at work… like the European Union which would rather destroy itself than stop mass immigration and enforcement of LGBTxyz.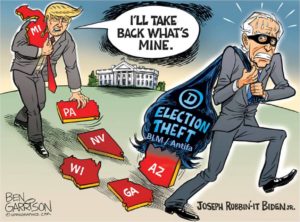 Read also: VIDEO: PROOF MSM & Big Tech Stole US Election With Censorship! 17% Biden Voters REGRET Vote – Would NOT Have Voted Biden Had They Known About Biden Scandals!
---