Like Stalin said, it does not matter who votes, but rather who counts the votes! America is having its own Russian Revolution with Billionaires in the counting room who cancelled the rights and diluted votes of millions! Half a Billion Dollars of private money was funneled through private organizations and NGOs to steal the election! $500 Million came from Mark Zuckerberg and his "charities" alone and were directly targeted at democratic areas only, essentially privatizing elections like in any Banana Republic!
As this bombshell testimony shows, Facebooks Mark Zuckerberg's Center for Tech and Civil Life (CTCL), financed the plan that reached out to Wisconsin Democrats in April 2020, to deliberately and willfully manipulate the election in contravention of the law statutes, that states the all voters musty have equal protection and access. The mayor of Racine was offered $100,000 Dollars. He was to keep $60k and he had to reach out to Greenbay, Kenosha, Milwaukee, etc. who would get at least 10k each, just to prepare their OWN state election plan without any coordination or inclusion of the rest of Wisconsin or its people or leaders.
This was all setup BEFORE Zuckerberg was approached to fund the coup d'etat plan, which was first laid out in a book called "The Citizens Guide to Defeating Donald Trump", written by Barack Obama's Former Campaign Manager David Plouffe, who worked for Mark Zuckerberg and his wife Priscilla Chan at the time.
NOTE: This video was secretly and quietly removed by YouTube without notifying us, and we got no content warning or strike or even an option to appeal! It was uploaded quite a few weeks ago so they no doubt hoped we would not notice. They had to do it quietly as the video is an official sworn testimony in front of a government body, so they could not dispute it any way! The only reason we noticed it was gone is because it was a featured vid on our channel. So we uploaded it elsewhere…
If the video does not load above, watch it here: https://www.bitchute.com/video/aqOtOkOq5LrD/
The plan wise widely shared and applauded and promoted on mainstream media, chat shows, late night left wing comedy "shows", etc., so all the commies were on board. Essentially they targeted areas which were heavily Democratic, specifically Detroit, Milwaukee and Philadelphia who were then given extreme advantages, which were unlawful and in contravention of state law. These advantages were not provided to Republican areas, making the election NOT FAIR OR EQUAL.
Furthermore, up to 250,000 democratic voters were allowed and assisted in declaring themselves permanently disabled, due to COVID, allowing them to vote without ID!
Mr. Zuckerberg's money funded drop boxes, which was illegal, in democratic areas of one box per 4,000 voters or per 4 square miles in Delaware for instance. Republican areas only got one drop box in 1,159 square miles!
These funds were also granted on condition of these illegal conditions being applied or they would withdraw the funds. They funded the people who boarded up the counting centre windows!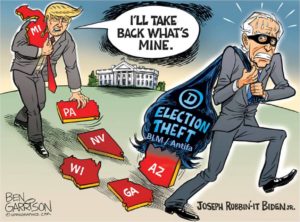 Read also: VIDEO: Deluge of Institutional Election Fraud Evidence From State Hearings! #TheSwamp & MSM Completely Hide it!
---