No doubt if you have been following Mainstream Media, you are probably starting to believe all the "Orange Man Bad" propaganda and false flags, or are digging your head in the sand out of fear of being falsely called "racist"? However videos have appeared showing Capitol Hill "police" or what appear to be police, allowing protestors in through the barricades! There is also a video of MAGA protestors trying to stop #antifa militants from breaking the window of the Capitol building, and calling antifa out! A known #BLM Antifa activist was also caught inside the building. Did Pelosi & Mitch McConnel instruct the guards to let the protestors in?  It is clear this was a setup as Trump is now permanently banned from Twitter and the Big Tech monopoly has restricted ALL Government accounts associated with the Trump Administration!
This proves Joe Biden's Antifa & BLM breached The Capitol! Trump was framed by The Swamp, Big Tech & Deep State! Already Big Tech has implemented a full scale Conservative Purge as Google removes Parler and Apple Threatens to Remove them aswell. Twitter has banned Trump and also suspended the accounts of Sidney Powell, Michael Flynn etc. Facebook have taken down multiple pages including the #WalkAway campaign with 500,000 followers!
The speed with which the Establishment, fake news mass media and big tech reacted to vilify and censor Trump and his supporters, preventing him from defending himself, shows it was planned, and that the perception has been entirely manufactured. Why were there no counter protestors at the Trump rally that morning? There always are…
If the video does not load above, watch it here: https://www.bitchute.com/video/QuPXBmm7bn6k/
Joe Biden is the leader of antifa – antifa dotcom redirected to joebiden dotcom during the election… Biden even defended antifa during the election debates, saying it was "just an idea"! Joseph Stalin would indeed be proud of Joseph Biden, although Biden is clearly a very weak puppet!
The New World Order and its Deep State and Swamp will now try completely destroy Trump and true democracy. They are scared of what Trump represents and will try grind him into the ground to prevent him running in 2024! Just like they completely destroy all their enemies like Iraq, Syria and even Apartheid South Africa…
If you are aware of this disconnect between mainstream media and reality, remember to be skeptical of everything they say and ask yourself, where do you stand? Better yet, switch it off and stop following them! You are either with us or with the New World Order…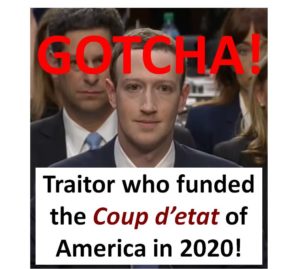 Read also: VIDEO: PROOF MSM & Big Tech Stole US Election With Censorship! 17% Biden Voters REGRET Vote – Would NOT Have Voted Biden Had They Known About Biden Scandals!
---