The USA is The Most Powerful Weapon on Earth & The Left Now Control it Completely! Without Trump, America will now once again revert to becoming the enemy of freedom and independence loving people worldwide, and unless patriots, republicans & freedom lovers step up to the plate, worldwide, it will now stay that way permanently, because the Fascist Deep State will never let their guard down again, like they did in 2016 when Trump so unexpectedly won. In the end Trump, who probably kept more promises than he made, was bogged down by the very Swamp he promised to drain, but if nothing else, at least Trump managed to expose the Deep State and the Establishment to the masses. Whether this will have a lasting effect remains to be seen as the fascist Deep State is hard at work re-installing its fascist structures and communist policies in order to take and keep complete and permanent control, a job that has been made far easier thanks to the weaponized "China Virus" as Trump called it. We have compiled a list of some of the fascist tactics & policies the Democrats & Deep State have used to seize power again. 
If the video does not load above, watch here: https://www.youtube.com/watch?v=ICWfYUSuaHM
Criminalize & Demonize All Political Opposition to destroy any dissent!- Frame, Arrest & Charge Opposition Members or falsely label them as "racist or bigots"!
Politicize the Secret Service to Serve The Party Only! Where has the FBI been for the last four years?
Ban, Censor, Demonise & Slander Critical Voices
Fund the Party & Leadership with Corruption & Cronyism with Big Business, Legitimized by Mainstream Media
Staff the Entire Civil Service with Loyal Party Members, also known as Cadre Deployment
Politicize all Government Departments and use them to promote the Party and indoctrinate its ideology
Collude with the Elites & Complicit Mainstream Media to manufacture the narrative (agitprop)!
Finance the campaigns of and appoint democratic and left leaning judges only
Attack & Intimidate Opposition with a Brownshirt or citizen militia with riots, looting, arson, attacking and "doxxing" individuals, (antifa BLM). Joe Biden is seen as the leader of antifa & democrats have never denounced BLM violence!
Use the NGO system to funnel funds from taxpayers and foreign agents to activist groups to push "agitprop" topics and finance citizen militias like antifa and BLM, affording the Democrats and Deep State arms length deniability.
Polarize people and Radicalize moderates through constant racial rhetoric. "White man bad, black man good!".
Open the borders to allow masses of illegal aliens to flood into the country to diffuse the identity of citizens.
Get friends & family to inform on nonconformers and dissidents like with the Stasi in East Germany!
Staff Voting & Counting Centres with Aggressive Party Members only, to Rig & Steal Elections! If opposition party members volunteer, reject them down by telling them there are enough volunteers already then put fake ones in their place.
Politicize the Army, for instance deploying 25,000 "loyalty tested" troops & Razorwire fences at Inauguration, excluding the people who supposedly voted for you (because you cannot gather enough support to fill a stadium)! Only dictators do that!
Ally with other Totalitarian Regimes (China & Iran) & Attack freedom loving truly democratic nations!
There is nothing The Left won't do to seize power! Just ask JFK! Illegality or immorality is not a barrier to them because they control the narrative and the courts. Until conservatives, patriots and freedom loving people can counter all of the above, decisively, the world will continue to be pushed left. STOP trying to be the "nice guy"!
1. Conservatives better learn fast how to criminalize, marginalize, arrest and Cancel Democrats. Do unto them what they do to us!
2, Get the hell off of liberal media and platforms like Twit, FB & Google. Stop supporting them! We need to build our own castles like GAB, Bitchute, Telegram, Parler etc.!
3. Educate yourself on Mao Tse Tsung's "Cultural Revolution" & the Bolshevik Revolution of 1917 in Russia because that is what is happening is USA!
Mark my words, democrats will try ban and criminalize conservatism soon! Just ask yourself, why is Nazism banned but not communism even though communism murdered 100 Million people? Why was there a war crimes tribunal after WWII but not after the Bolshevik Revolution or after the Holodomor? The world will keep lurching left, forcing a generational reset event like WWII in order to restore the balance. Boom and bust, the way of the left, there is nothing sustainable, fair or equal about the left, it is pure power and money, collusion and corruption and it will remain like that until normal people say enough and take out their pitchforks.
In his academic research, Professor Antony Cyril Sutton, who taught economics at California State University, and was a research fellow at Stanford University's Hoover Institution, also went into how these internationalist interests also supported national-socialism, in Nazi Germany, and in general supported every brand of top-down, command-and-control, socialist type political system.
Sutton was not a wild speculator. He was a distinguished academic researcher who documented his conclusions impeccably in his several works. Not being able to counter his research, the establishment (including academia) simply attempts to ignore it, and pretend it isn't there.
The purpose for these Wall Street policies was very simple: to create, and globalize, what Sutton calls Corporate Socialism. A system under which everything in society is ruled by the state, and the state is, in its stead, controlled by financiers who, hence, get to rule and manage society, to their liking. In other words, to get society to work for the financiers, using a socialist state as an intermediary.
This is what we now know as the globalization economic model. As a result of all the clashes of the 20th century, most notably WWII and the Cold War (fought between powers that were manipulated and controlled by these banker cliques), the world has been 'globalized'. Meaning that it has been entirely taken over by these financiers, and is ever closer to being completely ruled by them, through not only the national states and national central banking systems, but mainly through supranational agencies and institutions.
In this talk, Prof. Sutton goes into his impeccable research on how a close-knit group of Western oligarchs, financiers and industrialists (centered around the Eastern Establishment and Wall Street in the U.S., and around City finance oligarch circles in London) created and sustained what were essentially the best enemies money could buy: Soviet Russia and Nazi Germany – and then quite a few other fascist and socialist regimes across the world. Particularly, he goes into how anglo-american finance oligarchs used their banking institutions and their industrial enterprises to: 1) Help finance and sustain the Bolshevik Revolution. Build up Soviet industry during Lenin and Stalin's Five-Year Plans — through finance, industrial and technological transfers and technical assistance. Then, continue to sustain the Soviets throughout the Cold War, via the same kinds of deals. This included the Korea and Vietnam eras, during which American troops were being killed by… Western-designed Soviet equipment, produced in Soviet factories built by Western firms. 2) Build up Nazi Germany, both industrially and financially, mainly through what were then the Anglo-American-Nazi industrial cartels (e.g. IG Farben, V. Stählwerke, AEG) 3) And go across the world generally supporting every brand of top-down, command-and-control type political system, be it of the right or of the left flavor. This, as Sutton states, was particularly usual, and grave, in the Developing World: Africa, Latin America, and most of Asia. Professor Sutton was a distinguished academic researcher who documented his conclusions impeccably in his several works. Not being able to counter his research, the establishment (including academia) simply attempts to ignore it or even crudely censor it, and pretend it isn't there. Although there were many purposes for these oligarchical policies, one of the essential aims behind these was, as Sutton points out, to establish regimes that could be used: command and control, corrupt, repressive systems of government that could be covertly controlled by these financiers and oligarchs, and then discreetly used to exert dominance over territories, resources and populations. Also, the imposition of these types of regimes was, still is, the essential way you control and restrict development, or even impose backwardness and underdevelopment – and thus, reduce economies to the status of captive economies: economies that are completely dependent on, and controlled by the oligarchs' enterprises, corporations and cartels. Economies where oligarchic economic policies can be freely enforced, competition is made impossible, and common people are there to be used, abused and reduced to the level of coolie labor. Likewise, as Sutton also pointed out, repressive systems ensure a social order that is characterized by the imposition of compulsive conformity and compliance, by the crushing of the human spirit and by a general reduction of the population to the least common denominator – and, by the ensuing destruction of creativity and innovation, and of all possibilities of progress and development. This general suppression of Reason, intellect and creativity is essential to ensure the unchecked perpetuation of oligarchical power. So, it's an added bonus that's offered by these types of regimes. This is the way finance oligarchs see the world. Indeed, in their view, why would Latin American countries develop when you can just hijack their governments and use them to impose fascist economic policies and degrade things, so as to make these countries plantations for transnational corporations? Why would the Russian economy become a genuine, prosperous economy when it could be run and kept stagnant by Soviet state firms that were de facto technical subsidiaries for Western corporations? Why would the Developing World have their own economies when they can just be destabilized and sent to third world, and then saddled with IMF sponsored nepotistic socialism and the like, so their resources can be freely exploited by Anglo-Dutch raw materials cartels? That's how this works. Go into Professor Sutton's books, most notably the 'Wall Street' trilogy, and the academic series on Western industrial and technological assistance to the Soviets. If you have any difficulties in purchasing the original books, you'll find most of them are easily available online. FAIR USE NOTICE: This video contains copyrighted material the use of which has not always been specifically authorized by the copyright owner. We are making such material available for educational purposes, in our efforts to advance understanding of issues of humanitarian significance, without profit. We believe this constitutes 'fair use' under section 107, U.S. Copyright Law.
"You'll find that men in the same society will take opposite positions in public… The method they use is that of The Hegelian Dialectic – Thesis, played against Antithesis, leads to a Synthesis" – Prof Antony Sutton.
"In 1967 I distinguished two rival and successive forms of spectacular power, the concentrated and the diffuse. Both of them floated above real society, as its goal and its lie. The former, placing in the fore the ideology grouped around a dictatorial personality, had accompanied the totalitarian counter-revolution, Nazi as well as Stalinist. The latter, driving salaried workers to freely operate their choice upon the great variety of new commodities that confront them, had represented the Americanization of the world, a process which in some respects frightened but also successfully seduced those countries where it had been possible to maintain traditional forms of bourgeois democracy. Since then a third form has been established, through the rational combination of these two, and on the basis of a victory of the form which had showed itself stronger: the diffuse. This is the integrated spectacular, which has since tended to impose itself globally.
The integrated spectacular shows itself to be simultaneously concentrated and diffuse, and ever since the fruitful union of the two has learned to employ both these qualities on a grander scale. Their former mode of application has changed considerably. As regards the concentrated side, the controlling center has now become occult, never to be occupied by a known leader, or clear ideology. And on the diffuse side, the spectacular influence has never before put its mark to such a degree on almost the totality of socially produced behavior and objects. For the final sense of the integrated spectacular is that it integrates itself into reality to the same extent that it speaks of it, and that it reconstructs it as it speaks. As a result, this reality no longer confronts the integrated spectacular as something alien. When the spectacular was concentrated, the greater part of peripheral society escaped it; when it was diffuse, a small part; today, no part. The spectacle is mixed into all reality and irradiates it. As one could easily foresee in theory, practical experience of the unbridled accomplishment of commodity rationality has quickly and without exception shown that the becoming-world of the falsification was also the falsification of the world." – Guy Debord. Commentaries on The Society of The Spectacle. 1988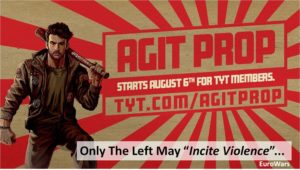 Read also: Video: THE JOE BIDEN CRIME FAMILY IS THE DEFINITION OF CORRUPTION & INAUGURATION WILL GIVE THEM IMMUNITY! But Why are Mainstream Media Complicit in the Cover-Up?
---