A Dutch / Flemish group who has been active for decades have commemorated mandela day by exposing the real mandela, which the mainstream media hides. They have asked others to do the same. They hung a banner on the statue of Nelson Mandela with a sign saying: "Terrorist, communist, murderer!"
Protesters from the patriotic group Voorpost have hung a sign on the statue of Nelson Mandela in Scheveningen, Netherlands in protest on mandela day. In large black letters is written "Terrorist, communist, murderer" on the placard.
A video from one of the members of Voorpost shows how three men attach the sign to the statue via a ladder. He says many people including mainstream media and the left worship mandela, but they hide the real truth…
"Mandela is not sacred, he was a murderer"… he says.
"Nelson Mandela was a murderer, a terrorist and a communist, and it's about time we started to do something about it," says the creator of the video as he films the action of his associates.
"It is time for people to know that it was not a saint. Since this man was released, over 4,000 white farmers in South Africa have been killed. "
If the video does not load above, watch here: https://youtu.be/BAZ-1lzjSKs
The group put up the sign today because it is Nelson Mandela Day. On its website, the Flemish-Dutch action group Voorpost called on members to carry out similar actions in other places in the Netherlands and Belgium where statues or references to Nelson Mandela can be found. For example, the website shows that activists have also been active in Delft, Hellevoetsluis and Bergen op Zoom, among others already.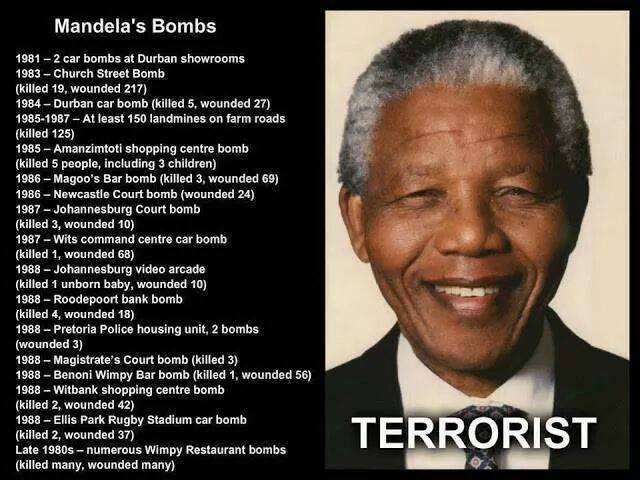 Read also: WMD's – Imagine The ANC With Nukes! Did The West Conspired With Apartheid SA To Keep Nukes Away from ANC, But Still Give Mandela The Credit?
---