MANUFACTURING CONSENT: It appears modern day elections have become a game of predicting how many fake votes the Deep State & Far Left will require, to overcome the actual votes and yet still appear legitimate. With this in mind, the only reason Trump won in 2016, was because the Deep State globalists and democrats did not expect him to win at all, so they did not prepare sufficient overstock ballot papers with which to commit their fraud.
As we can see, in 2020, they were so shocked by defeat in 2016, that went overboard with absentee and mail in ballots, which is a simply a scheme to create spare legitimate ballot papers, that can then be used to create the fake votes, with the overstocked ballot papers, once the algorithm starts pumping out how many ballots are needed to overcome Trumps vote. Like Sidney Powell said, there were so many votes for Trump, it broke the algorithm.
The statements that should make everyone who treasures true democracy tremble, are: "We should be seen to be winning" which was once even used by Tony Blair in public. It clearly indicates a disconnect between reality and impression – likewise Biden just went through the motions of campaigning, using Covid19 as an excuse, and in one of his many Freudian slips, on one occasion even said "I don't need your vote to win", to the the tiny audience off camera. Hilary Clinton also had tiny campaign rallies and had to bring her supporters with her in buses.
Secondly is, "One Man, One Vote, One Time"! Like the Hugo Chavez regime in Venezuela, who used thed Dominion voting machines and Smartmatic voting software to win every election, and even used it to get his sidekicks elected, once the democrats get in, you will never have another Trump again! They will have their proxies in the Republican party like Bush, but you will never get another independent leader like Trump again, ever! They learnt their lesson and will never let their guard down again like they did in 2016 – up until then they were happily controlling the elections because they were in control of the media and the election software. "One Man, One Vote, One Time" is a strategy they used very well to conquer and keep control over all of Africa!
If the video does not load above, watch it on youtube: https://youtu.be/ckaNa-4JvrY
How is it that Trump won every single Bell Weather state, but did not win the election? Are we now going to throw the Bell Weather concept and polling companies out the window? Of course not, they are an integral part of the scam, just go look at who funds them. Poll companies only exist to create the impression of victory, to be seen to be winning, to legitimise the stolen election afterwards so that no one is shocked (like Republicans were in 2020), and also to predict in advance how many overstock ballot papers will be required.
Now, in 2020 they were overwhelmed at how well Trump did and ended up exposing themselves as they desperately tried to keep ahead of Trump's tally of ballots. The Dominion algorithm was telling them how many were needed to keep Biden ahead of Trump! They had even enlisted the help of Antifa and BLM, who have no qualms with illegality, to do all the dirty work of destroying valid Trump votes and inserting fake votes. This is the reason they suddenly had to bring in boxes of ballots through the back door at 3AM! There is talk that a mafia boss was paid 3 Million to fill in fake ballots.
The only solution is a new election, because far too many unvalidated and fraudulent votes have been mixed in with the valid votes, deliberately so.
In the video a Retired Air Force General blows whistle on CIA vote hacking while former NYC Mayor and current member of President Trump legal team Rudy Giuliani comments on the latest revelations of 'irregularities' on election day and the hours that followed, and what he's going to do about them to reveal a possibly different number in favor of Trump.
Sky News host Paul Murray also says there is a "blackout" by the media on anything except the "coronation of Joe Biden".
"Why do people refuse to believe the result that they have been told has been given?" Mr Murray said.
"In part because there's process, and just because a television station says this state's been won or that state's been won, it's not actually the process.
"The process is that eventually a series of people sign off on the vote and they then decide in the state parliaments who gets to go and represent that state at the electoral college.
"This is an area where those who believe there's something crook about this election believe that things can either be overturned or put right."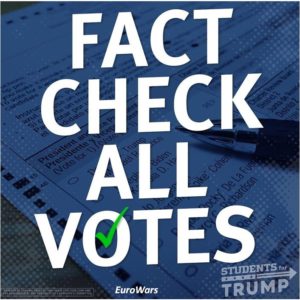 Read also: Over 95,000 People Sign Petition To Remove Lana Marks, Trump's US Ambassador To South Africa, For Misrepresenting SA To The World!
---