It's OK to hate Biden! There is a reason Biden is in such a rush to sign Executive Orders. Rep. Marjorie Taylor Greene from Georgia, has just filed two articles of impeachment against President Biden on Thursday, alleging abuse of power when he served as vice president under Obama. The Congresswoman says Biden admitted withholding billions of dollars in US aid to Ukraine, in order to have a prosecutor fired to prevent an investigation into his son Hunter's business dealings in the country. Classic "quid pro quo"!
Dinesh D'Sousa interviews Rep. Marjorie Taylor Greene (R-Georgia), elected to her first term in November, who accused Biden of being "unfit to hold the office" and a "lengthy and disturbing" pattern of "abuse of power" while he was Barack Obama's vice president, citing his threats to the Ukrainian government and his son Hunter Biden's shady business deals overseas among the examples.
In a statement on Thursday, Greene said Biden has shown he would do "whatever it takes" to bail out his son and "line his family's pockets with cash from corrupt foreign energy companies."
If the video does not load above, watch here: https://youtu.be/lvhWfLR1U9Y
"President Biden residing in the White House is a threat to national security and he must be immediately impeached," she added. In filing the articles, the Georgia congresswoman kept the promise she made a week ago, to impeach Biden on his first full day in office.
Joe Biden, and the rest of his crime family probably cannot believe that they pulled it off, and got away with it! Never before has such blatant, open and shut evidence in such volume, been simply brushed aside, except maybe in USSR or Communist China!
The most misunderstood thing about Fake News is that it is mostly lies by Omission. It is about what mainstream does NOT show you. In Germany it is called properly referred to as GAP News.
Whilst the impeachment push is unlikely to succeed given the Democrat's control of both houses, the evidence is far more damning than anything they had against Trump, and if the roles were reversed the Democrats would have this all over the media 24/7 weaponizing it to make the person look very bad. So let's also dish the dirt on Biden as hard and far as we can. He is just another corrupt criminal who operates above the law, like the Clinton Foundation. To them it is all about not being caught and so far he has been very lucky… Like Big tech firms, to them being fined for doing something illegal is just the cost of doing business…
We all know that a great injustice has been perpetuated on the greatest nation on earth, and the free world as a whole, in the past year. By weaponizing a unseen enemy, the china virus, and cynically taking full advantage, during a time of misery and global crisis is unforgivable and inhuman.
Using that crisis to commit blatant and institutional election fraud and make so many changes, so quickly, should be classed as a crime against humanity!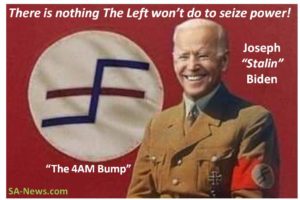 Read also: Video: THE JOE BIDEN CRIME FAMILY IS THE DEFINITION OF CORRUPTION & INAUGURATION WILL GIVE THEM IMMUNITY! But Why are Mainstream Media Complicit in the Cover-Up?
---