In a long overdue commentary, US President Donald Trump has threatened to hold back funding to the embattled World Health Organization, leaving the struggling globalist organisation without the slush fund from its largest donor, as many of its 194 members are currently being ravaged by the coronavirus. Will China, who has largely seemed to be calling all the shots at WHO, and has allegedly recovered, step in and take up the slack, even as the WHO demands that the world must show China "gratitude & respect"?
During his daily briefing on the coronavirus situation on Tuesday, Trump unleashed an attack, this time at the WHO, saying that the organization he dubbed "China-centric" was too slow and ineffective in its response to the coronavirus pandemic. He said "The World Health Organization receives vast amounts of money from the United States, we pay the biggest portion of their money," Trump said, pointing out that the struggling organization had "called every shot wrong" on the Covid-19 crisis. "They could have called it months earlier … they should have known, and they probably did know. … We're going to put a hold on money spent with the WHO, put a very powerful hold on it."
When Trump was asked about suspending funding to the organization, which is supposed to be the key international body fighting coronavirus, but is not, Trump said "I'm not saying I'm going to do it, I'm going to look at it … We will look at ending funding."
The embattled global health organisation has recently become a target of many including the US president's wrath. Tweeting ahead of the presser, Trump took aim at the WHO for its opposition to sweeping travel bans early on in the pandemic. He and other world leaders have repeatedly accused the WHO of corruption and being biased in favor of Beijing. Stories of China building an African Center for Disease control in the Secretary General's home country are one of many doing the rounds.
Like many other global organisations, the US is the WHO's largest financial contributor, paying $57.8 million so far this year alone, according to the organization. China is the next biggest donor, giving only half that, $28.7 million in the same period.
The WHO has faced severe criticism for dragging its feet on the global health crisis allowing China to put the world at risk. Back in February, its director Dr Tedros Adhanom Ghebreyesus said that there was no need to introduce travel bans, while describing the spread of the virus outside mainland China as "minimal and slow." Boy was he wrong!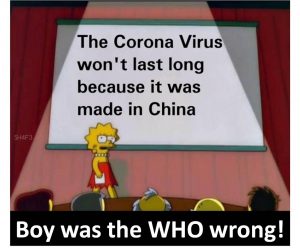 See also: Should China Pay For Our CoronaVirus Losses? Two US Firms Sue China For Criminal Negligence For Covering Up Corona "Chinese" Virus Outbreak in Wuhan!
---