KNEELING TO BLACKS WILL NOT STOP BLOODTHIRSTY HOME INVASIONS! These scenes of blood soaked floors and walls, after yet another violent attack by black males, is the result of the constant rhetoric from mainstream media and ANC government. The constant repetition that all whites are bad people who allegedly stole the land, are all racists, are all rich from colonialism and deserve to be killed, has literally put a target on the back of whites! Even without all this manipulative and blatant encouragement by the ANC Regime and liberal media, blacks were happy to steal from whites whenever they could, ever since their raids across the Fish river to steal livestock 200 years ago. In fact this crime wave is what prompted the British colonial government to bring in settlers to the Eastern Cape, to put in as a buffer between the marauding Africans and the farmers whose livestock they were stealing. Seems little has changed. 
The excuse about farm attacks and murders is that they are rural and thus easy targets. So how do they explain away bloody and deadly home invasions in residential areas? These extremely violent attacks are definitely not happening only on farms. To mainstream media this is JUST another attack on a white couple by blacks in South Africa – it is all quite normal apparently. It is even a daily occurrence now. The liberals and black supremacists will call this ordinary crime, but don't be fooled by them anymore. They call it ordinary crime deliberately to hide the truth and avoid responsibility for the hellhole their liberal policies created.
Do white lives matter anymore?
Rudi Stoltz (58) and his wife Adri (50) were violently and brutally attacked in their home in Hofmeyer singel, Sabie during a home invasion attack on Thursday afternoon 13 August, 2020. The couple was busy holding a birthday party for their 28 year old physically disabled daughter ,just after 20:00 when the attack happened.
According to the Lowvelder, the couple's dog began to bark and Rudi went outside to investigate. (This is a common mistake because then people leave the relative safety of their home to go outside in the open and dark unarmed. Why would a dog begin to bark fiercely? Surely this could indicate possible danger. Look through windows instead. This is pointed out as a safety tip because people have been attacked numerous times when they went out to investigate. This should not be happening over and over again).
When Rudi returned from outside, he was attacked by three black males, and the blood stained floors and walls of the house were silent evidence of the brutal nature of the attack. That and numerous very serious injuries to Rudi's body caused by the blows of the merciless bloodthirsty attackers. Why the brutality if they were three male attackers with weapons against one man?
Rudi was beaten all over his body and sustained numerous fractures including to his skull and hip.
Like always during this type of attack, the attackers were looking for cash and weapons. Are they building an army?
Adri was also injured but not as serious as Rudi. She  was beaten over the head with a firearm and sustained head injuries as well as to her hand and arm. The couple's daughter was not injured.
The couple both had to undergo emergency operations after the attack and both are being treated at the Mediclinic hospital.
No suspects have been arrested.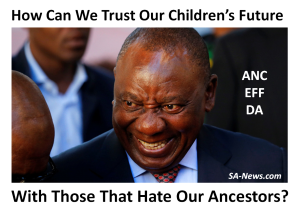 Read more: Ramaphosa Cares More For Vicious Farm Attackers Than For Their Victims! Farm Attacker & Kidnapper Released with 19,000 Prisoners!
---