This video was banned from Youtube within hours! Why are we not allowed to use a drug that has been FDA approved for 65 years and has been used by over a Billion people all over the world, that works and is widely and cheaply available? We are not even allowed to ask if Hydroxychloroquine works, we are forced to have blind trust in an authoritarian state and it Multinational Corporations? Collusion between state and big business is 100% the definition of Fascism! The CCPvirus is the Socialism Virus that commands you stop thinking for yourself & that destroys common sense! Clearly Covid19 has been turned into a crime against humanity, as a tool of mass control by the communists and globalists in cahoots with Big Tech. Guilt Tripping is Socialism, so stop drinking the mainstream propaganda cool aid being put out by the Establishment media.
Youtube's guidelines state that you are not allowed to share information or content on YouTube if it includes any of the following:
Treatment Misinformation: Discourages someone from seeking medical treatment by encouraging the use of cures or remedies to treat COVID-19.
Content that encourages the use of home remedies in place of medical treatment such as consulting a doctor or going to the hospital
Content that encourages the use of prayer or rituals in place of medical treatment
If the video does not load above, watch it here: https://www.bitchute.com/video/g6uEBTa1a9Sc/
In case you have had your head in the sand, the establishment has been hijacked and corrupted by the marxist left and globalists in order to gain more power and make more profits.
Socialism commands you follow approved "scientists" and not science…
Socialism uses guilt to command you into doing things which make no sense…
Destroy socialism!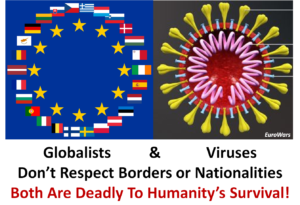 Read also: Trump Calls Out World Health Organisation (WHO) for Their "China-centricity" and for Calling Every Shot Wrong on COVID19 Chinese Virus!
---