World Domination: You would expect a tiny landlocked nation like Lesotho to be pro independence, but no, Lesotho along with Zimbabwe and Mozambique, appear to support communism and annexation. Why does Lesotho even exist? Why was Lesotho (and Swaziland & Namibia) allowed to keep its independence, but the other 10 independent bantu homeland nations were annexed by ANC in the 1994 violent coup? Why is Lesotho the favourite of UK Royals? We can only assume large amounts of money or "deals" changed hands when on July 1, 53 countries (including Communist China) signed a resolution introduced by Communist Cuba at the United Nations' Human Rights Council in Geneva, praising China for the passing of the oppressive Hong Kong National Security Law.
The list of those that have now became part of this new Axis of Shame (a label originally used for those supporting Chinese persecutions of Muslims in Xinjiang) has now been made public.
The list consists largely of poor African and other small nations which can no doubt be bought cheaply by a superpower like China:
China, Antigua and Barbuda, Bahrain, Belarus, Burundi, Cambodia, Cameroon, Central African Republic, Comoros, Congo-Brazzaville, Cuba, Djibouti, Dominica, Egypt, Equatorial Guinea, Eritrea, Gabon, Gambia, Guinea, Guinea-Bissau, Iran, Iraq, Kuwait, Laos, Lebanon, Lesotho, Mauritania, Morocco, Mozambique, Myanmar, Nepal, Nicaragua, Niger, North Korea, Oman, Pakistan, Palestine, Papua New Guinea, Saudi Arabia,  Sierra Leone, Somalia, South Sudan, Sri Lanka, Sudan, Suriname, Syria, Tajikistan, Togo, UAE, Venezuela, Yemen, Zambia, and Zimbabwe.
While Russia surprisingly did not sign, its Permanent Representative to the United Nations Office and other International Organizations in Geneva issued a separate statement the day before on June 30, denouncing the "external interference into the domestic affairs of China." Chinese media also announced that some other countries also issued pro-China separate statements, including Afghanistan, Algeria, Armenia, Capo Verde, Ethiopia, Indonesia, Ivory Coast, Kyrgyzstan, Madagascar, Maldives, Nigeria, Serbia, Tanzania, Chad, Vietnam.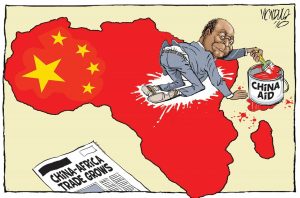 It seems however that these separate statements did not necessarily "praise" China's new Hong Kong National Security Law, while they criticized those "politicizing human rights" and "interfering in the internal affairs of China."
Meanwhile the following nations signed a counter statement introduced at the same Human Rights Council by the United Kingdom strongly criticizing China for violations of human rights and international law in Hong Kong and Xinjiang:
Australia, Austria, Belgium, Belize, Canada, Denmark, Estonia, Finland, France, Iceland, Ireland, Germany, Japan, Latvia, Liechtenstein, Lithuania, Luxembourg, Marshall Islands, Netherlands, New Zealand, Norway, Palau, Slovakia, Slovenia, Sweden, Switzerland, and the U.K.
The United States did not sign because of their problems with the Human Rights Council itself, but have also strongly condemned China's wrongdoings in both Hong Kong and Xinjiang.
In the middle are those politically correct countries that did not sign either statement, including European Union countries such as Greece, Italy, Spain, and Portugal.
Events like this should make people question world events and what, or more importantly who is behind them. Why were Transkei, Bophuthatswana, Venda, Ciskei, Lebowa, Gazankulu, QwaQwa, KwaZulu, KwaNdebele and KaNgwane not allowed to keep there independence and sovereignty?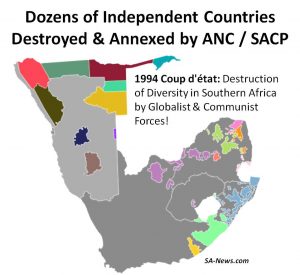 There are various forces intent on world domination or increasing their sphere of influence and territory, making it clear that ending apartheid had more to do with globalisation and centralisation as well as eliminating a regional power. Racism was just a very handy and potent weapon, more potent than the 6 nukes Apartheid South Africa had developed, but had to destroy to prevent them falling into the hands of blacks – interesting that the so called noble forces that wanted to give the country to blacks, did not want blacks to get nukes… hypocrites much?

The Chinese Communist Party's cover-up led to a pandemic that now threatens the lives of people around the globe. See through the deception, and keep yourself and your family truly informed:
REJECT THE CHINESE COMMUNIST PARTY: Sign the petition here:  https://rejectccp.com/
Read also: The 4 black lies about land in South Africa. Bantu (black Africans) DO NOT have default right to land.
---