The ANC regime has announced a racial framework for government COVID-19 assistance, the possibly of which they previously called fake news! The DA and Afriforum say they will fight against these BEE based measures, after two State departments have come out with a strict racial classification to determine which lucky South Africans affected by the COVID-19 pandemic will get financial assistance.
Now that the facts are on the table and the DA and Afriforum have come out strongly against these measures, which are intended to, as usual, discriminate against white South African employers and employees, who actually employ a lot of black South Africans.
Mmamoloko Kubayi-Ngubane, the minister of Tourism, has released a statement this week stating that assistance to small, medium and micro businesses in the tourism sector will be determined by the ANC's racist BBBEE policies and black supremacist "economic transformation", which is code for the fact that only black people will be helped. The department of Agriculture has also brought out a statement encouraging only black, coloured and Indian small-scale farmers to apply for financial assistance from the department.
John Steenhuisen, the DA leader, says the measures announced by these 2 departments will only encourage more divisions in a time that people are supposed to be standing together in the fight against a deadly pandemic. Steenhuisen also said that the DA was inundated the last 2 weeks by white people who were unhappy about the fact that they can't apply for COVID-19 related assistance on the basis of their skin colour.
Kallie Kriel of Afriforum has said that Afriforum will oppose any measure implemented by the government that are based on race which  excludes assistance to white people, in court. The ANC can expect a big fight and risk being exposed even more for the black supremacists they are.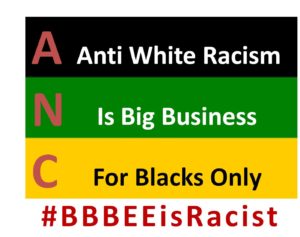 Read also: #RamaphosaLies Solidarity Lodges Complaint With Human Rights Commission Against Racist ANC's Race Based Solidarity Disaster Fund For COVID-19 Mitigation!
---